I haven't linked up with
Leslie
in a while for Confessional Friday, so I think it's about time. Join me and confess all your past week's secrets!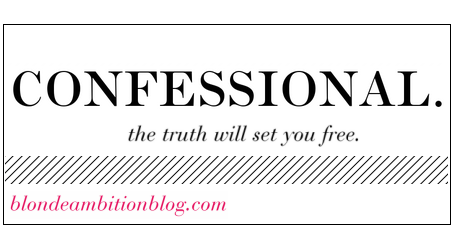 I confess...
1) I ate SIX Tim Horton's Timbits on Thursday but only logged three on the MyFitnessPal app. I was so ashamed that I completely lacked any self-control. Lying on what I really eat on MFP is what I do best.
2) I'm beyond excited for an entire week off of work and a vacation up in Mackinaw City, Michigan. However, I am a little concerned about our living arrangements for the week. A bachelor pad-type cabin with no hot water sounds more camping to me and I hate camping, even if it is free! At least we have a couple nights in a hotel on Mackinac Island!
3) I've become strangely addicted to the show School Spirits. It's about school ghost stories. Even though I don't really believe in ghosts, it still really creeps me out. And I always watch this stupid show when I'm home alone, so every little sound makes me jump out of my skin.
4) It's taken every ounce of self-control I have to not go shopping this week. I need to save my money for vacation! Maybe the reason I ate six Timbits is because all of my self-control went towards this...
5) I'm about ready to blow up on my bosses. I'm getting really frustrated with the lack of communication and organization within our workplace. Imma go all Extreme Makeover: Child Care Edition on this biznitch. But really, how hard is it to communicate and make sure we're all on the same page?
6) Yesterday was one of those days at work where the kiddos made me want to pull my hair out strand by strand. They were exhausting, and not in a cute way. So exhausting that on my lunch break, I refused to walk down to the kitchen to grab a knife so I just ate my cucumber like an apple. Hillbilly status.
Well ladies, starting tomorrow, I am on vacation for an entire week! That means you won't be hearing from me on this little ol blog for a week. I know, I know, you'll miss me. I thought about having guest posts or schedule posts ahead of time, but things have been crazy lately and I just didn't want to take the extra time to organize that all! So instead, follow me on Instagram (@jenna__anne [two underscores}) and
Twitter
to see how my vacation is going. I hope you all have an amazing week next week and I'm looking forward to catching up with you all when I get back! Much love...