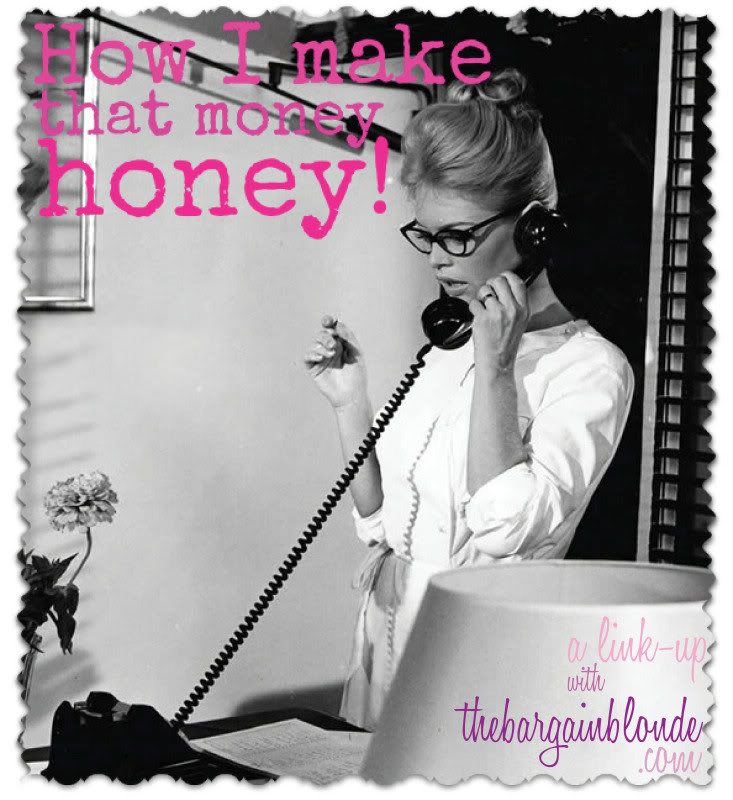 While I'm recovering from my weekend illness and taking the day off of work, I think it's the perfect time to link up with
The Bargain Blonde
and share with all you lovelies how I make that money.
I know I talk about it a lot, so many of you may have an idea of what I do for a living, but I'll get into some details to let you know a little bit more about the working life of moi!
I graduated in May 2011 with a degree in Social Work. Instead of going on to get my Masters, I decided to dive head first into the field. I was waaaayyyy over school at this point! I had spent the last semester of my senior year as an intern at Child Protective Services and had thought that was where I wanted to work. So I made my way through the intense interview process and waited....and waited....and waited. I was devastated when I found out that my classmate, whom I had interned with, was offered a position in our office and I was put on the "wait list". I was certain that CPS was where I was supposed to be, but God had different plans for me. Doesn't He always?
Fast forward a few months...
After applying to numerous agencies in my county, I finally received a phone call from my current employer. I interviewed for and was offered a position as a "Child Care Teacher" at an agency that services homeless families. I was honestly pretty shocked that they wanted to hire me as one of two lead teachers since I don't have an Early Childhood Degree, but they insisted that my Social Work background would be a great addition to the team.
So what do I do? In short, I take care of toddlers all day long. But there is so much more to it. You have to remember, most of these children come from pretty bad backgrounds. Not only are they homeless, but most of them come from single-parent homes. Most of the parents are without jobs or an education, have a history of substance abuse or mental illness, and/or have been a victim of domestic violence. It surprises me that many of our parents do not realize that their children are affected greatly by their actions. Therefore, most of my children are developmentally delayed, have severe behavioral issues, and have gone through significant trauma in their few years.
For example, one of my toddlers acts out physical and sexual abuse on a daily basis that this child has seen between his parents. It's awful to watch.
We also evaluate every child every three months to track their developmental and social-emotional health. Based on these results, we are able to focus on the specific needs of each child and can refer them to special services as needed.
While it all seems pretty intense and really sad, it's actually an amazing job. I love spending the day with my kiddos. When they're not beating each other up (one toddler gave another toddler a black eye the other day...no joke) or swearing at each other (I have a two and a half year old that calls everyone a mother effer) they are the sweetest kids on earth. They always know how to put a smile on my face and remind me to enjoy the little things in life. I have days I leave work and cry, both from sadness and frustration, and I have my certain kids who I wish more than anything I could adopt and save them from the terribly hard life they will have to endure, but I wouldn't trade all that heartache for anything. Plus, it's pretty fun to act like a kid all day long.
So, that's what I do! Link up with The Bargain Blonde and share how you make that money!