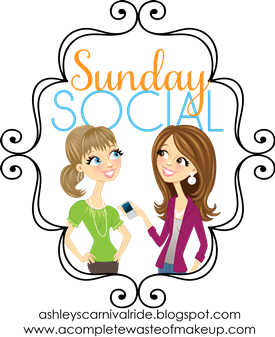 Join me in linking up with
Neely
and
Ashley
for another week of Sunday Social! This weeks theme:
TV!
Favorite TV show of the past...
Full House
Hellooooo Uncle Jesse! If you didn't love this show growing up, then you aren't human. I wanted to be part of the Tanner family. Except for when Danny had his overly emotional/awkward heart-to-hearts with his girls. And this show is even better now knowing that Danny Tanner/Bob Saget is really a creeptastic, pervert in real life.
Favorite TV show currently...
Keeping Up With the Kardashians
Real Housewives of Orange County
I love anything and everything reality. The Kardashians and The Real Housewives are my absolute favorite TV shows...hands down. I just can't get enough of the drama!
Which reality show would you NEVER do?
The Bachelor/Bachelorette
I'm actually not even really sure how this show is still going on? Hasn't season after season proven that it doesn't work! Yes, I do love seeing all the cray cray people who end up on these shows, but that's why I would never be on the show...crazies.
Which reality show would you LOVE to do?
Real Housewives...obviously!
Be honest with yourself, would you not love to be ridiculously rich, sip on ridiculously expensive wine, go on amazing vacations, and dress up in designer gowns just to have dinner at a friends?!? I think this is my life calling...
TV personality/ character that you feel is most like you...
Kourtney Kardashian (pre-Mason)
I say pre-Mason because she's kinda gone bitch-mode since she popped out a child. Poor Scott. But I like to say Kourt is my soul sister. Maybe it's just because I want to be her (and I wouldn't mind being blessed with her beauty). We both have the oldest child thing going on. I love my clothes, shoes, handbags, accessories and so does she. The only difference there is she can afford to drop thousands and I, obviously, can't. Kourt is hilarious (in my opinion) and I like to think I can crack a few good jokes every now and then. In reality, we probably aren't that similar at all, but in my fantasy world, I make myself believe we are twins, so there we have it!
TV character you'd want to date...
Shemar Moore from Criminal Minds
He's just nice to look at. No other words needed.