This week's Sunday Social topic is near and dear to my heart. I
live
for vaca! If I could, I would be hopping from tropical island to tropical island daily. Some of my best memories are from vacations I took with friends and family. So what am I waiting for?!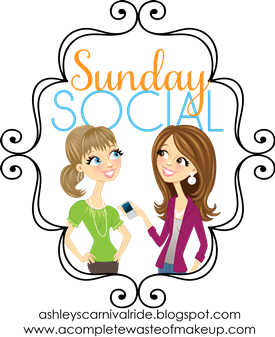 Best trip you've ever been on?
Okay, I'm cheating because I have three...
1) Playa del Carmen, Mexico
Don't mind my nasty brunette hair. This was my third trip to Mexico, but one of my favorites. Senior Spring Break with my favorite girls! We always talk about going back. Pretty sure it would be 20x better now that we're older (and now that our parents won't be with us...buzz kill.)
2) Germany/Czech Republic/Austria
When I graduated from high school, my aunt and uncle paid for me to come visit them in Germany for two weeks. We took weekend trips to Prague and Salzburg and spent our time touring some amazing places. I miss this trip so much! If you've never been to Europe, go!
3) Guatemala
My Junior year of college, I took a three week trip to Guatemala as part of a class I needed to graduate. I absolutely love Hispanic culture, so I really enjoyed my time in Guate. We spent time in Guatemala City, lived with a Guatemalan family for a week in Antigua, climbed a volcano (which I hated...btw) and really just had a lot of fun. I might love this trip a lot more than I normally would because I met Justin in Guatemala.
Best idea for a girls weekend trip?
Anywhere there is a beach!
You may think Michigan is a whole lot of ugly nothingness, but we have some amazing beaches! My high school girlfriends and I are taking a long weekend trip up to Suttons Bay later in August and I cannot wait to have a relaxing weekend with the girls. Lots of laughing, lots of fun, and of course, lots of wine.
Best idea for a couples trip?
Anywhere tropical
So romantic! Tropical vacations are the best because time literally does not exist. It's just filled with relaxation and quality time, just what's needed for a couples vaca.
Best vacation on the cheap?
Northern Michigan. This picture above is of Lake Michigan after my mom and I climbed the Sleeping Bear Dunes. We spent a weekend at The Homestead Resort (okay, which is not cheap) but there are plenty of cabins on the lake that you can rent. In a couple weeks, my mom, Justin, my brother and I are taking a week trip to Mackinaw City where we'll be staying in a co-workers cabin for free. It's always a plus knowing the right people!
Place you most want to visit?
Bora Bora!
This is my dream honeymoon. Staying in these huts right out in the middle of the ocean...perfection! I also wouldn't mind staying in those HUGE bungalows that the Kardashian's stayed in on their trip to Bora Bora...just saying.
Vacation necessities?
A couple cute bikinis, Hawaiian Tropic suntan lotion, sundresses, a camera, and a good book.