Well, once again, the weekend has come and gone. The further I get into this real world business, the shorter the weekends seem to get. Boo!
I had quite the emotionally draining Friday, not to mention a rough week at work. The kiddos were out of their minds all week long. It's like the gates of Hell opened up and swallowed Time for Tots...ridiculous. So with that said, I was
really
looking forward to a nice, relaxing weekend.
The weekend started off with dinner and a mojito with Justin. I just love me a good mojito every now and again! I shared with you all on my Confessional Friday post that I stole my brother's iPhone cord, and feeling a bit guilty, I ran over to Best Buy after dinner to pick another one up. While there, Justin and I got sucked into the musical instrument area. Pretty legit actually...
...sadly, we spent a good amount of time pretending like we knew how to be DJ's.
Saturday morning was extremely lazy, but I'm not complaining! I didn't do a thing until I went for a run around 3:00. The highlight of my Saturday? Hanging up this beaut...
...my new jewelry holder!! I've been looking for something to display my jewelry for a while now and found this handmade holder
here
on Etsy. I fell in love with it and Justin bought it for me for my birthday. How cute is it? It's a great way to display my favorite piece, and also, to remind myself of what I have since I tend to forget!
Sunday morning, Justin, Julie, one of my best and oldest friends, and I decided to be ambitious and go for a hike. Not just any hike people, a 10 mile hike! Ummm...what were we thinking? We're not exactly the nature type, so spending two and a half hours in the middle of nowhere was a little out of control. Nonetheless, we still had fun!
We decided to be adventurous and check out this abandoned campground...
...super creepy. It was someplace you would see in a horror movie. We were half expecting to find a dead body somewhere, but thankfully we didn't!
Ok, we normally look a lot better than that, but we had walked about 8 miles by now! Don't judge!
We were a little delusional and slap-happy at this point. The only thing getting us through this hike was the promise of Mike's Deli when we finished!
Let me introduce you to the amazing Mike's Deli...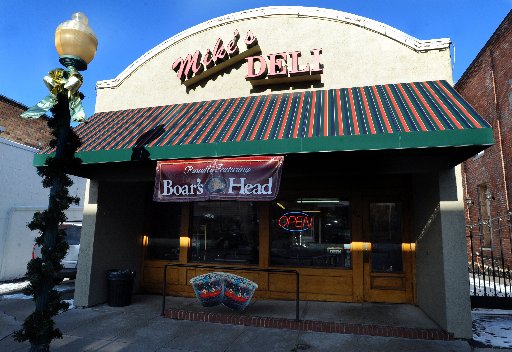 Mike's Deli is a sandwich shop in my hometown, Chelsea, Michigan. I can't even tell you how many different types of sandwiches they have here! These aren't your average, Subway sandwiches. These bad boys have meat and cheese for days. Really, it's a heart attack waiting to happen, but so worth the obscene amount of calories and fat.
My personal fave...
...The Stingray! Turkey, bacon, French swiss cheese, mayo, on grilled Sourdough. Yummm. I got half the meat today, as suggested by Julie, and it was perfect. I could eat Mike's Deli every day.
Justin was really into his Stingray, obviously. We inhaled our sandwiches and topped it all off with some ice cream. Nothing like stuffing your face after a 10 mile hike!
What did you do this weekend?
xoxo, J