I've been eying this link-up since I began blogging and for some reason, just never did it! Since I didn't Pinterest at all this week (a sin...I know) I thought I would skip Oh How Pinteresting Wednesday and finally link up with
Jamie
! Join the link-up and share with us what you're loving!
I'm loving this gorgeous maxi dress that I bought yesterday!
If you've been following my blog for a while, you know that I love maxi dresses but didn't own a single one because I'm so picky. Well ladies, here ya go! I finally found it! It's a gorgeous country floral print with a lace tie. AND...it's the perfect length! Perfect for tall(ish) girls like me! I found this at Forever 21 for only $23!
I'm loving that I got to spend some quality time with my girls!
I had dinner with some girlfriends in Downtown Brighton yesterday to celebrate a birthday. We naturally took a picture of our Mojitos and Oberon but failed to actually take a picture of ourselves (in true alcoholic fashion). I have the best group of friends from high school and it always makes my heart happy to catch up with them!
I'm loving Sperry Top-Sider's!
After months and months of telling myself no, I've finally decided to splurge and buy myself some Sperry's. I know, I know...I'm late on the whole 'fad'. Growing up, my grandparents always wore boat shoes...always! Since my grandpa passed away seven years ago, any time I see a pair of Sperry's (or any other type of boat shoes) I automatically think of him. They remind me of all the amazing memories I was able to make with the best grandpa to ever walk the planet.
I'm loving Maybelline's Baby Lips in Cherry Me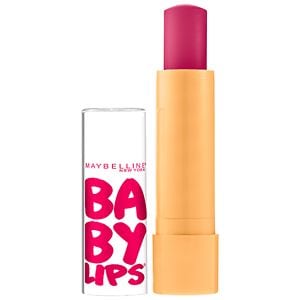 This is my version of a red lip since I'm not brave enough to go all out! A friend of mine gave me this and I am in love! It's a gorgeous red color, but really subtle, so those of you who are like me won't freak out over an intense red lip.
I'm loving this guy!
There's a little sneak peek at his adorable dimples! J is the best guy a girl could ask for. I'm beyond lucky to be able to call him mine. I won't get too sappy so I don't make you ladies sick, but there are times I'm overwhelmed with how much I love and care about Justin, and this is just one of those time!
**If you haven't entered for a chance to win my Essie Giveaway, do it!! Click here to go directly to the blog post. Good luck!
**