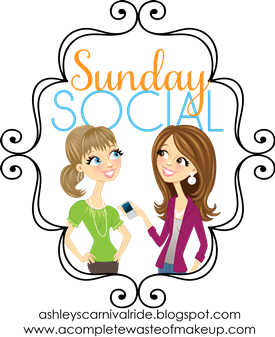 I can't believe that I missed the first week of this fun link up! Join
Neely
and
Ashley
for Social Sunday
Favorite movie of all time?
Hands down, Forrest Gump!
There's just something about this movie that tugs at my heartstrings. I just want to reach through the television and give the man a hug every time I watch this movie. If Forrest was a real person, I would make him my best friend.
Favorite movie quote?
This is a question for Justin. His life is filled with movie quotes and lyrics. I, on the other hand, am not a huge movie quote person. I'll throw the classic "Four for you Glen Coco, you go Glen Coco!" or "She doesn't even go here!" from Mean Girls around every now and then, but that's about as close to my favorite movie quote as it's going to get.
Best movie to watch for a girls night in?
How to Lose a Guy in 10 Days
Who doesn't love to watch this movie with their girlfriends? The perfect RomCom with a fairytale ending. Put in the DVD, pour yourself a glass of wine, and enjoy some girl time!
Best breakup movie?
Is it okay for me to say I don't believe in a best breakup movie? When you break up with someone you always turn to those sappy love stories. Cue P.S. I Love You and a bawling-fest. Does that really make anyone feel better? BUT if I had to choose, I would pick The Holiday.
This movie reminds us that if something goes wrong, it's because there is something better for us out there.
Favorite celeb eye candy?
Ryan Reynolds
Do I really need to explain? That's what I thought...
Which movie star's closet would you want to raid?
Ashley Tisdale
I feel like a teeny bopper saying that, but for real! I love her style. So effortless, comfy, simple, and edgy. I would let her style me every day.